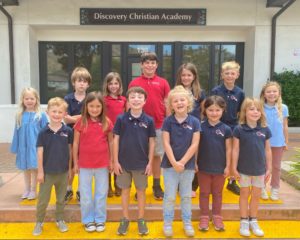 Thank you for your interest in Discovery Christian Academy! Registering your child is as easy as 1, 2, 3.
1. Schedule a Consultation. The first step in the process includes a consultation with one of our educators. We will walk you through what a typical day might look like at Discovery Christian Academy and answer any questions that you might have. This is also a good opportunity for us to get to know each other. We will work together to decide if our school is a good fit for your family.
2. File the Application. After the consultation, we ask that you download and fill out the application. Once we have received it and ensure that we have space for your child, we will contact you to set up an assessment time.
3. Complete an Assessment. Our pre-assessments are a little different than you might imagine. Although we do have some initial math and grammar evaluations for older students, we mostly want to make sure that your child can both follow directions and think creatively. Because our school has multi-grade clusters, we conduct more thorough testing in the first few weeks of school to ensure that each child is learning at his/her individual level.
Upon acceptance, you will receive a detailed information packet along with your student's start date and payment information.