We hope that your child's God-given desire to learn is brought to life because of our approach to academics at Discovery Christian Academy.
Multi-Grade Clusters
Discovery Christian Academy is a one-room schoolhouse in the sense that we create classes and small groups using multi-age clusters. Allowing students to work with different grade levels benefits children in many ways. In a Project Based Learning environment, students are challenged by individual abilities. Children will learn from older and younger classmates, as well as support their peers. This will cause the students to advance in academics, self-esteem, and social skills.
Solid Foundations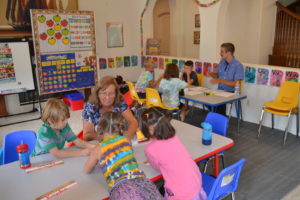 At Discovery Christian Academy, we teach a strong foundation in reading, writing, and mathematics. In multi-grade clusters, students can work at individual levels. Rather than struggling or getting bored, children are challenged in a way that they can achieve success.
Bible Time:
Because God says to put Him first, we choose to have Bible Time at the beginning of our school day. Although our Bible time sometimes correlates with our Project Based Learning, we also have a structured curriculum. With the NIrV Adventure Bible for Early Readers by Zonderkidz, Summit Ministries' Building on the Rock Bible Curriculum Discovery Christian Academy teaches real-life applications of the Bible through stories, object lessons, and hands-on learning. We also focus on prayer, worship, and memorizing God's Word. We tie it all together by watching short video clips and reading straight from the Bible.  At Discovery Christian Academy, students begin to see the big picture of God's love for them and build a real relationship with Jesus as their personal friend and Savior.
Language Arts:
We believe that reading and writing are two of the most important academic skills that young children need to learn.  Also, a love of reading will make learning other subjects more enjoyable. To create a solid foundation in language arts, we use curriculum by Purposeful Design Publications, a division of Association of Christian Schools International. To supplement, we use manipulatives, games, journals, learning apps, and a multitude of age-appropriate books. In addition, language arts are integrated into our Project Based Learning.
Mathematics:
At Discovery Christian Academy, we want to inspire children to excel in math. We build confidence by placing students where they can succeed while offering obtainable challenges. We teach to mastery and use the spiral approach as a form of review. This means that the children can understand a concept and apply it. Then we move on, but continue to cycle back so that children don't forget what they have already learned. In mathematics, we use Purposeful Design Publications as a primary curriculum.  Additionally, we incorporate games, hands-on learning opportunities, and round off with educational apps like Khan Academy that reinforce math concepts.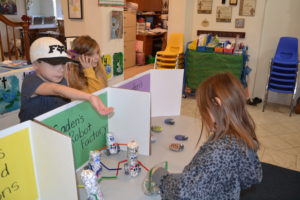 Project Based Learning
This method of hands-on learning involves a dynamic classroom approach. Project Based Learning starts with a question. For example, "How can we create rules for our class to learn in a safe and fun environment?" Students discuss and brainstorm what they know and what they need to know to answer the question. Through inquiry-based research, mini-lessons, and hands-on learning opportunities, children will learn about rules and laws, why they are important, and how they are created. They will learn about God's laws and what the Bible says about following rules. Then the students will create a government that writes and passes bills into law. Because this question is relevant to the students, they will gain a deeper understanding of information that applies to their young lives. Most project units last about two weeks so our students have time to really answer the driving question and get a full understanding of the themes. Other questions that we have asked include, "How can our class write and perform a play that will tell our friends and family about the first Thanksgiving?" and "How can I design, produce, and market a product that my friends would want to purchase at our classroom marketplace?" If you would like to know more about Project Based Learning, we are happy to share some of the other amazing units we have been working on.
Incorporating S.T.R.E.A.M.
A huge part of Project Based Learning is working on a problem through multiple disciplines. At Discovery Christian Academy, this includes Science, Technology, Reading/wRiting, Engineering, Art, and Mathematics. For example, if creating a habitat for an animal that God created, the students might use their tablets to conduct research, then write a story about their animal. Next, they might design and construct a habitat using various art materials with specific mathematic parameters. As their exhibits are on display for family and friends, they might present ideas toward helping sustain the biome. We feel that this model allows students to be more engaged in learning and have a better understanding of concepts because they are approached from different angles.